Preventing heart disease with diet and exercise
Heart disease has been on the rise, and awareness is an enormous factor when it comes to preventing it and educating the public. American Heart Month, which takes place in February, seeks to brings attention to this fact.
Heart disease, formally known as coronary heart disease, occurs when small blood vessels begin to shrink in width. These small blood vessels supply blood and oxygen to the heart. Prevention is vital in reducing the risk of heart attacks, stroke, high cholesterol, obesity and forms of cancer. Many foods consumed can aid in the prevention of heart disease.
April Barnard, biology senior and president of the IU Southeast Pre-Med Society, said preventing heart disease is simple but not easy.
"If you smoke, stop. If you eat junk food, cut down. And if you're sedentary, start exercising a few days each week," Barnard said.
Dr. Christopher Hofelich, interventional cardiologist at Floyd Memorial Hospital, said some people look at healthy lifestyles as a burden. He said that many do not believe they have time to make healthy choices, but planning ahead can make it much easier.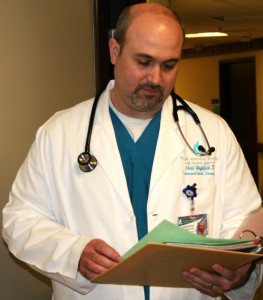 According to Floyd Memorial Hospital, fruits and vegetables are a good source of fiber, vitamins and minerals. In addition, these foods are low in fat, calories, sodium and cholesterol. Whole grains are also recommended for reducing one's risk of heart disease. Low fat whole grain breads, cereals, crackers, rice and pasta are examples of foods containing them. Grains are high in vitamin B, iron and fiber.
In addition, Floyd Memorial Hospital recommends proteins such as those found in lean cuts of beef and pork, poultry, seafood, dried peas, lentils, nuts and eggs. Proteins contain B vitamins, iron and various other minerals. However, eating more than six cooked ounces of meat, poultry or fish a day is not recommended.
Exercise can help make one's heart muscle stronger. It may also help prevent chest pain or other problems during exercise, and can help lower blood sugar, blood pressure and cholesterol.
Aerobic exercise uses the heart and lungs for a long period of time. According to Floyd Memorial Hospital, it also helps the heart use oxygen better and improves blood flow.
Working the heart a little harder every time one exercises can be beneficial.
"The American Heart Association recommends 30 minutes ofmoderate activity a day," Hofelich said. "The key is to start slowly."
Examples of aerobic exercise include walking, swimming or biking. Hofelich said he recommends doing them often.
"It is important for college students to get into the habit of exercise," Hofelich said.
Drinking plenty of water and taking frequent breaks during exercise are helpful when exercising.
"Everything counts. Take the stairs, walk during your lunch break and put on a pedometer," Hofelich said.
There are upcoming opportunities at IU Southeast to learn more about heart disease. On April 9th at 9 a.m., the IU Southeast Pre-Med Society will present an interactive open heart surgery in which students can watch a real time heart surgery and ask the surgeon and anesthesiologists questions.
The American Heart Association has local chapters in every state. They provide further details regarding heart disease and its prevention. Visit www.heart.org for more information.