Through the lens of Chancellor Wallace
For decades Tianamen Square has served as the lens through which the world viewed Chinese history. It is where Mao Zedong proclaimed the founding of the People's Republic in 1989, and the site where thousands of pro-democracy protesters were gunned down by government soldiers 40 years later.
In 2008, Ray Wallace was standing in the middle of that square trying to capture some of its history with a digital camera, when he broke a Cardinal rule.
"I had a senior moment I guess," Wallace said.
Without thinking, Wallace, now the chancellor at IU Southeast, began to take photos of Chinese soldiers on duty, causing the police to chase him out of the square.
"I get across from Tianamen Square and I'm walking through a park," Wallace said. "I see a guy and some of his buddies laughing at me because they had seen the cops chasing me."
One man in the group, however, never even opened his eyes. That's when Wallace picked up his camera and went back to work.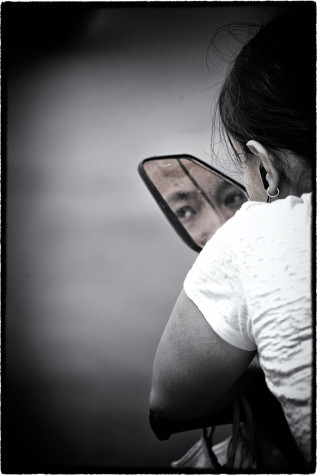 "I just looked at his face, and it told stories," Wallace said. "It's a voice that a photograph has for its viewers."
The resulting image is just one of dozens of Wallace's photographs that will be on display in the Ronald Barr Gallery Oct. 1-28 as part of the Louisville Photo Biennial.
The name of the exhibit is "Documenting Direction: Global Spaces and Faces" and focuses on photos Wallace has taken between 2006 and 2012 while traveling through Vietnam, Japan, China, Northern Ireland, Scotland, India and South Africa to name a few.
"A lot of people don't realize that I am a photographer as well as a chancellor," Wallace said. "But my escapist passion is photography, it has been since I was a kid."
His father gave him his first camera at age 11 after Wallace was inspired by watching photojournalists that were documenting the violence that plagued Northern Ireland at the time.
Since then the chancellor has shown his work in dozens of galleries and sold many of his prints.
"I enjoy showing my work," Wallace said. "I like that part of the conversation where people come and look at a photo and say, "Tell me about that photograph."
As for his upcoming show in The Barr Gallery, Wallace hopes his work inspires visitors to realize that no matter whether you live in southern Indiana or South Africa, we have more things in common than we do differences.
"I want to see if people can make connections between a homeless guy in Japan and themselves," Wallace said. "I think that in terms of global-ness it's important to realize just how small we are."