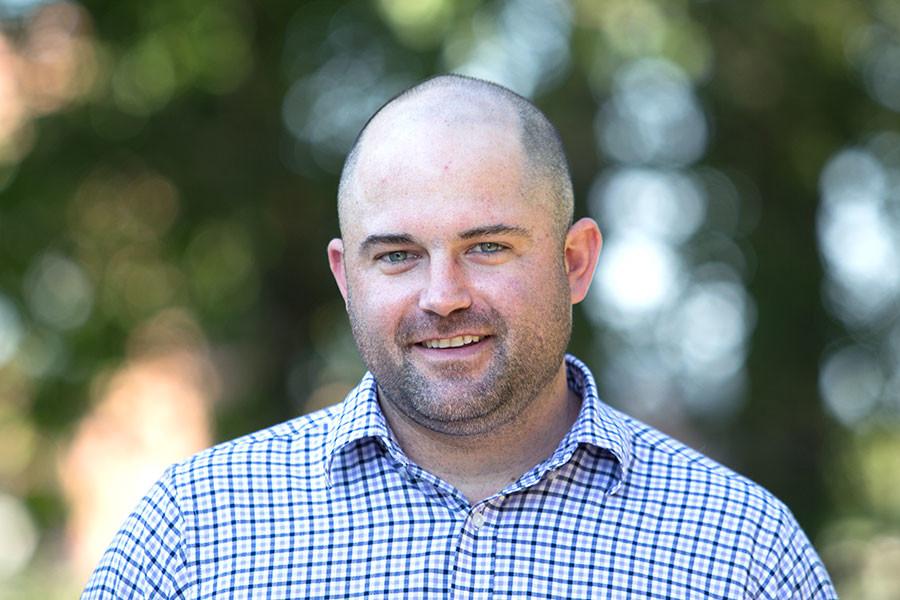 Hello fellow Grenadiers! My name is Joel Stinnett.
I was born and raised in Louisville and attended Saint Xavier High School, where I was the news and features editor of The Xavier News. Upon graduation I attended Western Kentucky University and was a sports writer for The Herald.
Unfortunately, Bowling Green, KY was too small of a town for me, so I decided to transfer to Manhattan College in New York City. While in New York I got my real estate license and began selling apartments in Brooklyn. Later I became a publicist and brand manager for a small record label. I loved the energy of NYC. I still miss walking amongst its skyscrapers and thinking about my day as I listened to the sounds of the city. But what I truly miss are the uniqueness of its people.
IU Southeast has its own unique people and contagious energy and it is our job at The Horizon to tell its story.
But we need your help. If you know of an interesting person, topic, or event on campus that you think The Horizon should cover please email me at joelstin@ius.edu. We are the STUDENT newspaper of IUS and we want to tell your story.
Joel Stinnett, Staff Reporter (Fall 2015); Editor-in-Chief (Spring 2015); Managing Editor for Digital (Fall 2014)
Jan 11, 2016
Nov 26, 2015

IU Southeast to begin flat-rate tuition for full-time students

(Story)

Nov 02, 2015
Oct 19, 2015

IUS men's basketball preview

(Story)

Oct 05, 2015

New dean of education brings her tradition into new role

(Story)

Sep 21, 2015

Campus lockdown leads to new door locks

(Story)

Sep 21, 2015

Through the lens of Chancellor Wallace

(Story)

Apr 28, 2015

Two scoops and a view: Widow's Walk Ice Creamery and Bicycle Rentals

(Story)

Apr 27, 2015

Everything I needed to know about journalism I learned from hip-hop

(Story)

Mar 30, 2015

THIS COLUMN IS TO BE READ BY STRAIGHTS ONLY!

(Story)

Mar 16, 2015

SPRING BREAK! Without breaking your bank account

(Story)

Feb 18, 2015

LOVE IS A BATTLEFIELD

(Story)

Jan 26, 2015

Practice Like a Pro: IUS Athletics makes marketing, facility and safety upgrades

(Story/Media)

Jan 26, 2015

Moore steps down, Trent Wallace sworn in as president

(Story)

Jan 21, 2015

SGA President Stephon Moore resigns

(Story)

Dec 01, 2014

Chancellor Wallace's first semester at IUS

(Story)

Sep 20, 2014

IU Southeast campus on edge:

(Story)

Sep 11, 2014

IU Southeast gives the "all clear"

(Story)

Sep 11, 2014

IU Southeast on lockdown

(Story)

Aug 22, 2014

New Chancellor Ray Wallace wants to share the secret of IU Southeast

(Story)

May 12, 2014

Graduation ceremonies canceled

(Story)

Apr 28, 2014

'Need for Speed': Popular video game hits the big screen

(Story)

Mar 31, 2014

The West End wall

(Story)

Feb 10, 2014

Tax dollars flood into creationist's Ark Park

(Story)

Jan 15, 2014

Finalists announced for new IU Southeast chancellor

(Story)

Jan 13, 2014

IUS men's basketball season update and preview

(Story/Media)

Dec 02, 2013

Serving tables to serving America

(Story)

Nov 18, 2013

Former IUS student finds peace in helping others

(Story)

Nov 03, 2013

Zombie lawn gnomes? All part of the family business

(Story)

Oct 25, 2013

History professor surprised by Sagamore of the Wabash award

(Story)

Oct 23, 2013

Video: Picking Pumpkins at Huber's Family Farm

(Story)

Oct 02, 2013

Video: Life as an IU Southeast Police Officer

(Story)

Sep 25, 2013

Video: Exploring the Falls of the Ohio

(Story)

Sep 13, 2013

Video: Fall Semester Challenges Students

(Story)

Sep 10, 2013