Lit @ the Lodges book club meets on campus
Surrounded by a warm and popping fire, the Lit @ the Lodges book club members chatted with each other and discussed the book they were reading.
Lit @ the Lodges, sponsored by the IUS Library and the Office of Residence Life and Housing, met on Wednesday, March 2 at 7:30 p.m. in Grove Lodge.
Courtney Block, instruction, reference and user engagement librarian, said she helped start the book club. She said the book the club members were discussing during the meeting was "The Brief Wondrous Life of Oscar Wao" by Junot Diaz.
"It's [The book's] really about the aftermath and lingering affects of one family who lived during the dictatorship of Rafael Trujillo in the Dominican Republic and how it still affects the family today," Block said. "In particular one of the young men in the family. It goes back and forth in time from nowadays to some of the other family members like in the '40s, the '50s and '60s."
Andrew Utley, residence life coordinator, said he helped start Lit @ the Lodges with Block.
Utley said this was the book club's third time meeting, and another meeting, besides the three that were held, was canceled due to snow. Utley said Lit @ the Lodges rotates to a different lodge each meeting.
Block said she wanted to start Lit @ the Lodges because she thinks reading is fun. She said she wants to have more fun activities related to the IUS library.
"I reached out to Residence Life and Housing and Audra [Dowling] put me in contact with Andrew," Block said. "Andrew was saying that when he was a student here, he wanted to start something like that, but it just never formed into anything with people's schedules and all that stuff."
Jenna Bieker, criminal justice and psychology junior, is a member of Lit @ the Lodges, and she attended the club meeting March 2.
Bieker said the book club was formed three months ago. She said she joined the club for many reasons.
Bieker said the social aspect of the book club is her favorite aspect of Lit @ the Lodges, because it brings people out to talk and brings life to the lodges. She said she is a resident assistant, and it is really important to have community in the lodges.
Also, Bieker said  everyone should come to the Lit @ the Lodges meetings, because even if they don't have time to read the books, it's still a great opportunity to meet people, network and have social interactions.
Hannah Knight, secondary education freshman, said she lives in Meadow Lodge and has attended every Lit @ the Lodges meeting.
"It's a way to connect with people and meet new people," Knight said.
Knight said she hopes to learn how to read more efficiently from participating in Lit @ the Lodges. She said she encourages students who like to read to come to the club meetings.
"We all get to state our opinions and what we saw out of the book," Knight said. "I'm looking forward to actually reading it all or at least more than I have."
Block said the book club gets all copies of the books the members read for free.
"I get them [books] all free through a program called Novel Conversations, and it's through Indiana Humanities," Block said. "That's actually a program available to anybody in the state of Indiana. You don't even have to be a library or school or anything. You can just be a person that has a book club in your neighborhood, and all you have to have access to is a library that's on the statewide transportation system."
Block said that when choosing books for Lit @ the Lodges, she goes online to Novel Conversations and sees what is available.
"Novel Conversations has a website, and I just go on and I find what books are available what month and it tells me like 'There's eight available of this, there's twelve available of this, these are available a certain month, these are not,' and I just reserve them and they ship them to the library," she said.
Block said Novel Conversations ships the books she picks directly to the IUS Library, and Lit @ the Lodges members can keep them for about five weeks.
Also, Block said if students are interested in the books the Lit @ the Lodges  members are reading, they can sign a copy out by leaving their e-mail and other contact information at the circulation desk in the IUS Library. She said students just have to ask for the book the members are currently reading.
"I try to pick ones [books] that are recently published, so I think the oldest one we've read was published in 2006 or 2008 maybe," Block said. "Things that are relatively short because everyone has busy schedules. Books that got maybe like a lot of buzz or got talked about in the publishing world."
Utley said the first book the club read was "I Love You, Beth Cooper" by Larry Doyle.
Block said everyone is welcome to come and join Lit @ the Lodges, even if they did not read a book that is discussed.
She said the next book the club will be reading is "Little Bee" by Chris Cleave, and the club will meet on Wednesday, March 23 at 7:30 p.m. in Forest Lodge. Block said copies of "Little Bee" are now available at the circulation desk in the IUS Library.
"I really really emphasize to people that this is not supposed to be a stressful event, a stressful club," Block said. "I don't ever want anybody to feel like that they have to read and finish reading. If they finish reading the book that's great, if not still come and talk about, listen to others talk about the book because really, what's amazing about book clubs is where the conversation about the book goes. It morphs into conversations about life and society and all sorts of things."
About the Contributor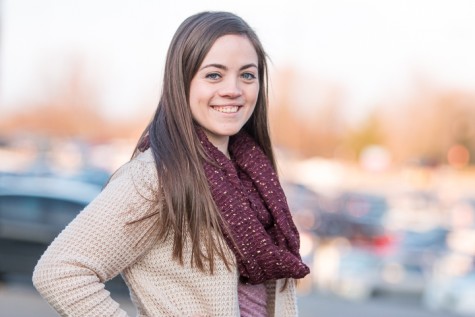 Katie Casper, Co-Editor-In-Chief (Spring 2017) Managing Editor (Fall 2016) News Editor/Social Media Coordinator (Spring 2016); Staff Reporter (Fall 2015)
Hello! My name is Katie Casper and I am Co-Editor-In-Chief of The Horizon at IU Southeast. I am a Multimedia Journalism senior with a concentration in...