Activism in the arts
Students at IU Southeast discover political purpose in the visual arts.
After the Supreme Court ruled in favor of same-sex marriage last June, Kim Davis, a county clerk in Rowan County, Kentucky, began withholding marriage licenses from couples looking to exchange vows.
Davis was later jailed for contempt of court for ignoring court orders to start issuing licenses again. Five days later, she was released and hailed as a hero by many high-profile conservative figures for her actions, which she referred to as "acting under God's authority," according to the New York Times.
Digital art and interactive media senior Michael Kopp said the national spectacle prompted him to use his art as a political tool.
"I never was one for politics. I've always kind of steered away from it because I don't really like the system," Kopp said.
"It wasn't really until the whole Kim Davis and marriage equality issue in the past year that I wanted to get more involved in my community."
Equipped with a rented computer, a projector, and an extension cord, Kopp drove alone to the offices where Davis works in Rowan County.
"I created a rainbow flag in Photoshop, since it's the symbol of gay pride. Then I hooked the projector up in the back of my car and popped the trunk open," Kopp said.
"I mapped out the whole side of her building with the flag. It was exhilarating."
For roughly 20 minutes, the image remained projected. Kopp said a landscaper on the property then called the local sheriff for using the building's outlet to power his projector. According to Kopp, the sheriff actually had positive things to say about his work.
"He was like, 'wow, this is a really powerful piece. I really enjoy it,'" Kopp said.
"We sat and talked for about 10 minutes, then he told me that I couldn't use their power. He told me that if I wanted to come back with a generator to go for it. That was an interesting turn."
Kopp said he only had one issue with how the day turned out.
"I was upset that Kim Davis wasn't there," he said. "She was off visiting the Pope or something. But it did its job."
Along with Kopp, other students involved in fine arts at IU Southeast have recently contributed their artistic voices to socio-political discussions.
According to assistant professor of fine art Susanna Crum, the printmaking and social action course, which is instructed by Crum, is designed to allow students to express themselves in this way.
"I'm interested in the power of all forms of art, whether it's visual, music, or writing. They enable people to ask questions and to hear or learn about people's lives that are different from their own," Crum said.
"There [are] opportunities to participate in the public sphere with printmaking that [are] unlike many other forms of art."
According to Crum, what makes printmaking different is the ease of printing multiple versions and copies of original art.
"When you have a wood block, you can print however many images you want and they can be widely distributed," Crum said.
"It has always had a relationship with politics, from printing pamphlets and brochures and posters to social interaction and spreading information."
Graphic design student Stephanie Hensen said the class immediately caught her attention.
"I was really excited about the social action part of it," Hensen said. "I wanted to get my own personal work out there and have it interact with people, not just display it on a wall."
Hensen said the focal point of the piece she is currently working on is the power of social media.
The piece revolves around a colorful, Andy Warhol-style self-portrait that she plans to display in a public place.
"For the piece, I'm going to have a sign with it that has an instagram hashtag. People can take selfies with it and post them online," Hensen said.
Kacey Slone, a fellow graphic design student, echoed Hensen's opinions on social media, particularly the ability to instantly connect with others from across the country.
"It has opened so many doors, not just collaboratively, but to get your artwork seen quickly," Slone said.
"I've made friends with other artists from other places. For them to see my work and me to see theirs even though they're thousands of miles away, it's just awesome."
According to fine arts senior Chelsea Markuson, the process of creating begins in a much more secluded place than the crowded world of social media.
"It all starts in the 'self.' It's being isolated, like the lonely artist in the studio. It starts that way because you have to learn your own artistic language and your own voice as an artist," Markuson said.
"I think in order to have a stable projection out into the world of humility, kindness and being a good person, it's important to have that self-awareness."
Though Markuson will be receiving her BFA in drawing in May, she said it wasn't until recently that art began taking a prominent role in her aspirations.
It was a stint in Chicago during her early 20s that Markuson said she began taking photos, which in turn inspired her to begin doing line drawings.
"These drawings were abstract in nature, they were very surreal, but they soothed my pain," Markuson said.
"It was in that moment that I realized the connection between the hand and the mind. These lines were able to translate into other means of expression. They were able to communicate a message to the viewer, not only of my mental state, but hopefully to inspire them in some way as well."
Though Markuson is hesitant to describe her art as political, she said it does carry certain social messages.
"My art isn't necessarily attached to any political concept. I don't identify myself as a political artist, but my art definitely does have a message that's, in my belief, positive," she said.
"It elicits a sense of moving forward to a better future. Always working forward, always trying to better things. So it's more humanitarian."
"I've really tried to project socially that there is a way out of personal suffering or being mentally debilitated through emotional turmoil that comes into our lives. There are ways out. It's an overwhelming theme for me," she said.
According to Markuson, who is Jewish, another source of inspiration for her work are the injustices suffered by minorities.
"I'm not going to play a victim to what has been done to Jews throughout history, but at the same time I take into consideration how my family's trauma has impacted me," Markuson said.
"The only thing I can do is turn that into something good. A lot of political activists in art have that basis in their work. That they ultimately want to be a catalyst for change."
For his next piece, Kopp said he is focusing on the theme of global human rights, specifical gay rights in Uganda.
"There's been a rise in homophobic legislation in the past decade in Uganda. It's been propagated by American Evangelical Christians. So this piece is highlighting the fact that crimes against humanity are being inflicted on homosexuals. It's just this perpetuation of hate-based bigotry."
According to Kopp, the piece will include visual and audio components to create a five minute art experience.
The piece will be on display this coming April during a university exhibition in the Barr Gallery.
About the Contributor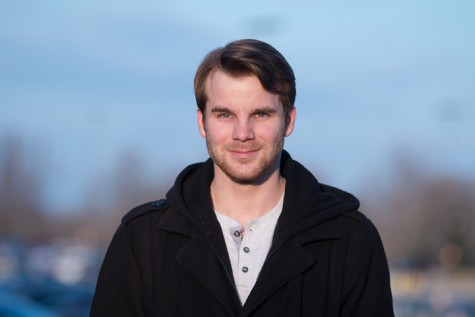 John Boyle, Staff Reporter
My name is John Boyle, and I am a senior English student at IU Southeast. Half of my life has been spent in Florida, and the other half has been spent...