The Fight for Time Off
The results are in – IUS students vote 'yes' for a fall break and faculty members explain the downsides of no time off
According to Mark Jallayu, since its conception, the role of the Student Government Association (SGA) has been to represent the voice of students on campus. He said in previous years, the SGA has not done as great of a job of engaging with students as he would have liked, but he anticipates this to change.
Jallayu is the current president of the SGA and explained that his initial decision to run as president came about following his time spent on the SGA senate, a position in which he wanted to make changes, but ultimately was unable to do so.
"Previously, we have not been in that role," Jallayu said. "I want to bring that purpose back to the SGA. It is the students' activity fees going into the SGA and I do not want the student money to go to waste because we are sitting in our office, doing nothing."
Jallayu said the decision to run for SGA president, the tipping point, came about when he understood the influence that he could potentially have on campus.
"When I thought about the presidency and the chance to meet with administrators on campus, and to influence decisions on campus, I went out and got the required signatures to run," he said.
Since his election as SGA President, Jallayu has had many things in mind in terms of what he could do for IU Southeast, but one seems to have been at the forefront of his overall concern since the beginning.
"I spoke to students about what they wanted and the most popular response I got was 'fall break,'" Jallayu said.
According to the university webpage, IU has eight regional campuses and of those eight schools, only three do not offer students and faculty members a fall break during October. IU Bloomington, IUPUI, IU Kokomo, IU South Bend and IPFW all provide a fall break at some point in October, with varying dates and lengths; however, IU Southeast, IU East and IU Northwest do not.
With all IU campuses sharing the same fall semester start date of Aug. 22, students, Jallayu being one of many, have come to question why IU Southeast cannot rearrange the campus calendar and offer its students some time off during October.
"I've been told that it has to do with Financial Aid eligibility," Jallayu said. "But I think we can work past it this year, at least that's how we've been able to proceed with the survey that went out to all students."
Jay McTyier is the Registrar at IU Southeast and part of his role as Registrar is to organize the academic calendar for IU Southeast. He said financial aid plays a significant role determining when the campus can and cannot take off.
"When considering fall break, there are term parameters that we have to follow, and if we do not, then financial aid will not fund certain classes," McTyier said. "The financial aid regulation is what keeps us quarantined into these parameters. Federal aid governs a lot of what we decide we can do."
According to McTyier, fall break was proposed to the faculty senate in years prior, but has been voted against every time. He explained that fall break being brought to campus isn't as simple of a thing as most presume it to be and instead is far more of a complicated matter, with key specifics that are ignored by most. However, thanks to the campaigning done by Jallayu, the faculty senate seems more receptive than they have been in years prior.
"I was an undergraduate student and I went to a school that did have a fall break," he said. "So I see the value in it and I understand why students want it. But it is not a discrete function and it's within a system, and the issue is that even if the student body says that they want it and the faculty senate says, 'yes, okay, we're going to do that,' it still implies a further adjustment to the overall schedule."
Joe Wert, associate professor of political science, said he doesn't necessarily have an opinion that makes him more in favor or against a potential fall break, as he is a faculty member and the time off would mostly impact students; however, Wert pointed out the fact that IU Southeast is a non-traditional campus, and this should have some weight in the decision making process.
"Many of our students have jobs, they have families of their own and their time is very limited," he said. "I think that a couple of breathing days would give them the chance of either relaxing or getting caught up, or possibly both."
On Oct. 31, the SGA conducted a campus-wide survey, asking students if they were in favor of a fall break being offered starting with the 2017 fall semester. The results from said survey indicated that out of 814 surveyed students, 93.2 percent were in favor of IU Southeast providing a fall break.
According to the responses gathered by the SGA, the general convenience of a fall break plays a key factor for many in this decision making process, some consider the health-related criteria when arguing in favor of the highly demanded time off.
Michael Day works as a personal counselor at IU Southeast and strongly encourages the campus offering a fall break. He said he does not believe that IU Southeast goes out of its way to offer students a fall break, and according to Day, this is a problem.
"I would argue that we do not have a fall break and anyone who wants to argue with me, I will tell them that they are wrong," Day said. "[Thanksgiving Break] doesn't actually hit at a time that is beneficial to students, instead it hits at a time that is too late for most students. We come back for one week and then go right into finals."
Day said during October of this year, and years prior, his office has noticed a spike pertaining to the number of students that seek personal counseling, an inflation he notes could directly correlate to the lack of a break during the month.
"I presented information two years ago expressing that October is our highest month of people coming in for counseling," Day said. "We have the highest number of counseling in October compared to any other month in the entire year."
The data that Day references was gathered by the IU Southeast Student Counseling Center and focuses on the monthly statistics regarding traffic coming into the personal counseling offices. Beginning in 2012, there was a distinct increase in the amount of students that sought out personal counseling during October.
While the correlation between the lack of a fall break and the increased percentages of students seeking personal counseling isn't for certain a cause and effect relationship, Day said he is skeptical the conjunction isn't there.
"I can't say that [increased counseling sessions] are definitely because of the fact that we don't get a fall break, but I do know that October is certainly the highest month by far," he said.
The jury may still be out on the aforementioned relationship Day hinted at, but the one thing he is certain of is the importance of mental health in an academic setting, something the lack of a fall break could very well inhibit.
"I think that [a fall break] would greatly help the emotional and psychological health of our students," Day said. "It would improve their learning. The brain gets to a particular point where there is just too much and it needs time to reset. In regards to mental health awareness, we have made a lot of progress, especially at this institution, and I think that perhaps it could be a time where mentioning [fall break] might get more attention than it used to get."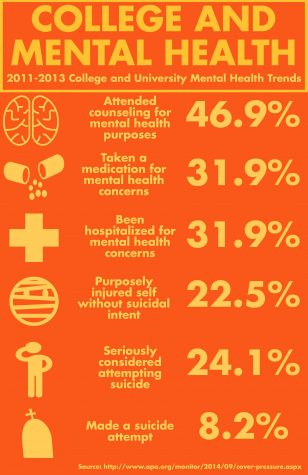 When speaking in terms of mental health, Day didn't only reference generalities and simple observations, instead he offered the physiological reasons as to why the body demands a break, in particular during long stretches of academic stress.
According to Day, the brain does not exist as a unitary structure, or rather as one single organ, and instead is a multi-purposed structure responsible for both physical and mental functions. Speech is in one area of the brain, memory is in another area and executive function and critical thinking reside in another area, an area that happens to be the most fully developed.
However, when a person is under stress the body naturally diverts energy from that highly developed part of the brain to the more fundamental lesser developed part of the brain. This is where a student experiences flight, fight or freeze responses.
"These are the responses that cause the body to go into survival mode," Day said. "[When in survival mode], the brain cannot function at the higher levels as well. So when people are put under too much stress, they simply do not learn as well."
The points Day made regarding the importance of mental health and college students aren't unfounded, and according to outside studies, are legitimized and frequently overlooked.
In 2014, Kim Meade, vice-provost and associate president at Brock University, published a study gathered from the previous year focusing on the mental health problems college students cope with during the fall semester.
The study first highlights common psychological concerns voiced by students and addresses the reality behind each of these concerns. According to "Exploring the Impact of a Fall Break on Student Mental Health Outcomes," college students consistently report higher stress and anxiety levels than that of the general population, mental illnesses most commonly develop between the ages of 15 and 24, and there appears to be a direct connection when observing a student's mental health, overall health and their academic performance.
In addition to this, Meade's study reported research that has suggested via multiple studies that a student's perceived level of positive mental health is directly related to academic performance. This suggests it is key for students to see themselves as having positive mental health.
As Day said, fall break is for college students as it allows time for the brain to reset itself and start anew; Mead's study suggests this very same idea, and it did so by gaging the amount of anxiety and stress students partaking in the 2013 research project reported having experienced during mid-term examinations and in the weeks that followed.
According to the data, during mid-term examinations stress levels saw an increase of 92.5 percent and when questioned if whether or not the incoming winter break would alleviate said stress, 92 percent stated that it would.
The above numbers suggest that a large majority of students are in need of a break of some variety, and the time off for the holidays isn't quite cutting it for most.
The importance of student health, both physical and mental, is something that is likely a concern for IU Southeast, but what is certainly a concern for the campus is student retention. In 2013, the university released a report focusing on the retention strategies for first year students with the action plan of "enhancing the structure for academic development."
While there is focus on the overall significance of retention rates, not much of this focus pertains to the mental well-being of students, which some faculty members see as problematic due to the possible connection between mental health and dropout rates.
"People do get behind and most need a chance to catch up, and if they can never catch up then they end up either dropping the course or failing," Day said. "By not trying a fall break we are really shooting ourselves in the foot. You have to try something before saying that it won't work. All these ancillary reasons for not offering a fall break, well, let's figure those out, other schools do."
Day said fall break being the solution to waning retention rates is strictly a hypothesis as of now, and Ron Severtis, director for the office of institutional effectiveness, is inclined to agree with him.
"Unfortunately, we don't keep track of monthly retention rates," Severtis said.
Severtis said there are a variety of factors that go into the reasoning as to why a student might withdraw from a class, and as of now, most of these factors are difficult to monitor.
"There can be personal reasons, financial reasons, academic reasons, all sorts of reasons and as of now we don't have a means of keeping track of these numbers," he said.
Even though important source material like the numbers regarding retention rates during particular time periods have yet to be narrowed down to percentages, students continue finding methods through which their voices can be heard.
With 759 of 814 IU Southeast students voting in favor of a fall break, there is no denying that the prospect of time off during October is something that the university should begin considering. As said by Day and faculty members with similar mindsets, IU Southeast is long overdue for finally coming around and embracing the idea.
Jallayu's crusade for a fall break is far from over as the faculty senate still needs to meet on an undetermined date. Even with the resounding support that his proposal received, Jallayu encourages students to make themselves heard if they truly are in favor of a potential fall break in 2017.
"I [would] like to see students contact their respective schools," he said. "They should also get a petition going that say they support the SGA push for a fall break. They should write their support for the SGA push for a fall break and I will deliver to our administration."
Jallayu said the battle for fall break is an uphill one, but assuming students become engaged and stay engaged, they can certainly be the causation for change.
"Let's make fall break happen," he said.
About the Contributor
Jordan Williams, Managing Editor
Hello, my name is Jordan Williams. I am a soon to be English graduate and present journalism student. I work as Features Editor for the Horizon, which...