IUS professors join the Women's March on Washington
WASHINGTON — Cliff Staten and his daughter Anna packed into a bus in Frankfort, Kentucky, riding overnight to join as many as 500,000 others in Washington, D.C., for the Women's March on Washington.
The protesters were diverse, as were their causes, but they were unified in their opposition of the incoming Trump administration.
Before the march began, crowds packed Independence Avenue for a rally. Those who weren't close enough to see the action on the stage filled the street for blocks, watching on large TV screens.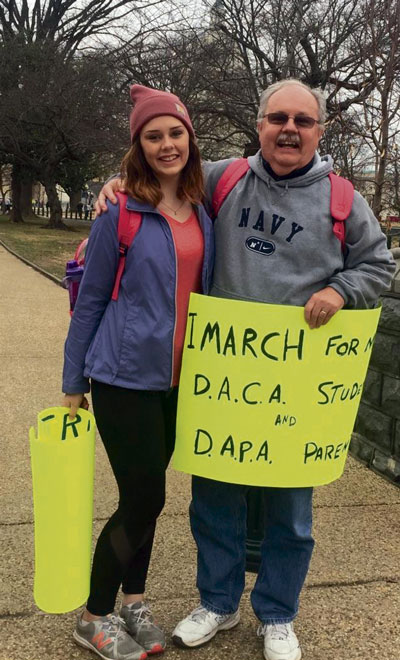 Staten, professor of political science and international studies, was one of several IU Southeast faculty member who attended the event. He and his daughter said they came to the event on behalf of humanitarian rights.
"This march, to me, is a march about human rights," Staten said. "It's about women's rights, which are part of human rights. It's about the rights of marginalized peoples and those that, quite honestly, were during the campaign period by Trump, were very much denigrated. To me, this is one way of responding."
He made it very clear, however, that this was a positive march.
"It's not seen as just a critique of Trump," he said. "This is to emphasize basic human rights in this country."
Joining her father in his activism, this was Anna Staten's first time participating in a protest.
"This will be my first activist role I've ever taken," she said. "This is definitely something I'm going to remember forever. It means a lot to me that I'm gonna be with my dad."
She said she was stirred by Trump's rhetoric during his campaign.
"It just kind of opened my eyes with the people that I know, like my friends and my family that kind of submitted to that rape culture and let it go," she said. "Because I am a sexual assault survivor."
Trump's remarks also struck a chord with Anna's father.
"His own rhetoric just speaks volumes in terms of his attitude towards marginalized groups, women and so on and so forth, and to me that's just completely and totally unacceptable," he said.
The idea of this march was created by Theresa Shook, a retired attorney living in Hawaii. according to an interview with The Washington Post.
Shook said she started an event on Facebook with an idea of women marching on Washington. She went to bed with 40 people attending her Facebook event, but woke up with 10,000 people on the list of attendees.
After Shook created her Facebook event, the idea took off with an incredible speed that no one saw coming.
Angelika Hoelger, assistant professor of history and international studies, also participated in the march. She drove herself to D.C., bringing with her a long list of issues with the incoming Trump administration.
"I have profound concern about the incoming administration," she said. "We've seen in the campaign the misogynistic rhetoric and bragging about sexual assault, dismissing and insulting women."
Women's health, the wage gap and other issues blocking gender equality are also issues at the top of Hoelger's list.
As an immigrant from Germany, Hoelger said she doesn't like the tone she's seeing Trump and countries around the world use to address the immigrant crisis.
"I think we've seen both sides of the Atlantic a rise in a phobia, if you look at the speeches against refugees, a very strong anti-immigrant stance," Hoelger said.
Hoegler said with Brexit, the election of Trump, and with the elections in France, Germany and the Netherlands happening soon, she is afraid of seeing populist and far-right parties gain power in more and more countries.
"Moving away from liberal democracy and from alliances that we thought are well consolidated and won't be challenged that quickly, that's rather disconcerting," Hoelger said.
Speakers at the march included actresses America Ferrera, Scarlett Johansson, Muhammad Ali's daughter Maryum Ali and Malcolm X's daughter Ilyasah Shabazz.
Director Michael Moore encouraged the crowd to be activists by seeking public office.
"You have to be willing to put yourself on the line," Moore said. "It's that important."
With official merchandise, a mobile app and hundreds of partners including Planned Parenthood and Natural Resources Defense Council, what started as a small Facebook event soon became the largest protest regarding the Inauguration this year and possibly ever, according to The New York Times.
Buses were organized in 40 states, including California and Alaska, to get protesters to the event if they were unable to provide themselves with transportation.
Beatrice Howell, 17, from Santa Rosa, California, flew to D.C. after having distraught feelings from the 2016 election.
"Just some kind of feeling of hope, everyone being together," Howell said. "Not necessarily having an attack towards Trump, but being in a crowd of people who feel the same way."
Christina Stack came to D.C. from Victoria, Canada.
"We're supporting you in solidarity," Stack said.
On the same day as the Women's March on Washington, almost 700 marches happened all over the world with the same agenda, according to the Women's March website. Multiple marches took place in Indiana and Kentucky, including in Louisville, where approximately 5,000 people attended the Rally to Move Forward.