Trump Comes to Louisville's Freedom Hall for Rally
On March 20 2017, Freedom Hall's almost 19 thousand seats were filled to near capacity.
Cheers and signs rose into the air and Lee Greenwood's "God Bless the U.S.A" blared from the speakers as President Donald J. Trump strode onto the stage.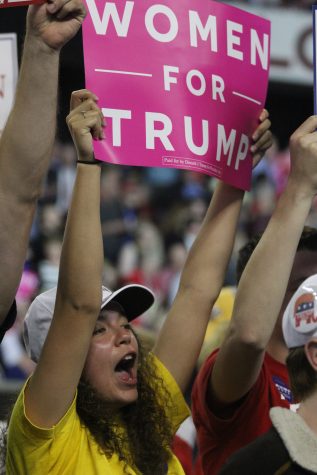 Trump made his visit only a little over a week after his vice president, Mike Pence, visited Louisville to speak about health care and the economy.
While holding his rally, Trump discussed Obamacare, immigration, his Supreme Court nominee and the need for a united nation.
Trump opened his speech by saying, "We're in the heartland of America and there's nowhere else I would rather be than right here with you tonight."
While in what can be considered the heart of coal country, Trump discussed miners and their futures.
"They have not been treated well but they're going to be treated well now," Trump said. "A lot of coal miners are going back to work."
He went on to discuss Kentucky native and head of the Environmental Protection Agency Scott Pruitt, saying he will turn the EPA from "a job killer to a job creator."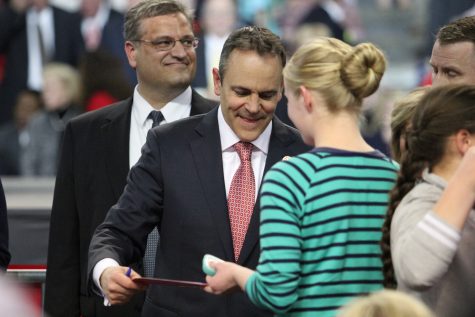 The audience appeared enthusiastic, chanting "U.S.A" and "Trump" every so often and offering deafening responses when prompted by the night's speakers, which included Kentucky governor Matt Bevin and Senate majority leader Mitch McConnell.
Malcolm Hamming, 17, and Jack Koch, 18, were two of the rally attendees. Both consider themselves Republican, yet only one of them supports Trump.
"I look at him objectively," Hamming said. "I don't appreciate how careless he is with telling the truth."
Koch, however, was more optimistic.
"What he does matters more than what he says," Koch said.
There were multiple interruptions for protests by crowd members over the course of the rally.
As Trump began his speech, a young protector draped a black flag with a Democratic party donkey from the second level. The sign was ripped away from him by two Trump supporters and, after flipping of the crowd, he was escorted away by security.
Later, three audience members in Black Lives Matter shirts stood in unison, causing a disruption amongst the crowd until they too were escorted away.
Trump ignored the protests.
"The U.S.A. is your country again," Trump said.
As he signed off, the audience joined him in the now all too familiar campaign slogan.
"Together, we will make America great again!"