Fat Heads Rescue takes on Harvest Homecoming
Festival goers pay one dollar to hold and love on puppies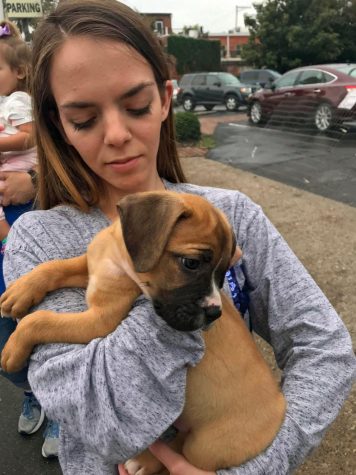 A local non-profit animal shelter hosted a booth at Harvest Homecoming this year, letting visitors spend time with its wet-nosed puppies for a small fee.
Fat Heads Rescue had a booth at the annual New Albany festival for the first time. Harvest Homecoming hosted craft and booth days from Thursday, Oct. 10 to Sunday, Oct. 13.
Fat Heads Rescue is a non-profit organization located in New Albany, Indiana. It was founded in 2014 by Davida Miller. Miller said his mission and the shelters mission is to rescue and rehome pit bull-type dogs.
The organization brought with them rescue dogs and puppies — those in attendance could pay one dollar to hold and love on the animals.
Floyd County resident Joanna Smith said Fat Heads Rescue's booth brightened her day at Harvest Homecoming.
"I like that the volunteers are trying to educate people on pit bulls and find homes for them since many people think they are a bully breed," Smith said.
The one-dollar donations will benefit the shelter and rescue animals.
Tony Moran, sophomore criminal justice major said the long line at the booth was what caught his attention.
"It's great to know that the money goes back to help care for the shelter dogs," Moran said.
Fat Heads Rescue brought the animals to the festival to not only break the stereotype that people may have on pit bull-type dogs, but to also encourage the community to adopt animals that are currently at the shelter.
The shelter has its own website and is also active on Facebook, Instagram and Twitter. Those who want to adopt can visit the shelter in New Albany and individuals can help the shelter by making donations or by volunteering.