Pancakes fly at Chancellor's Breakfast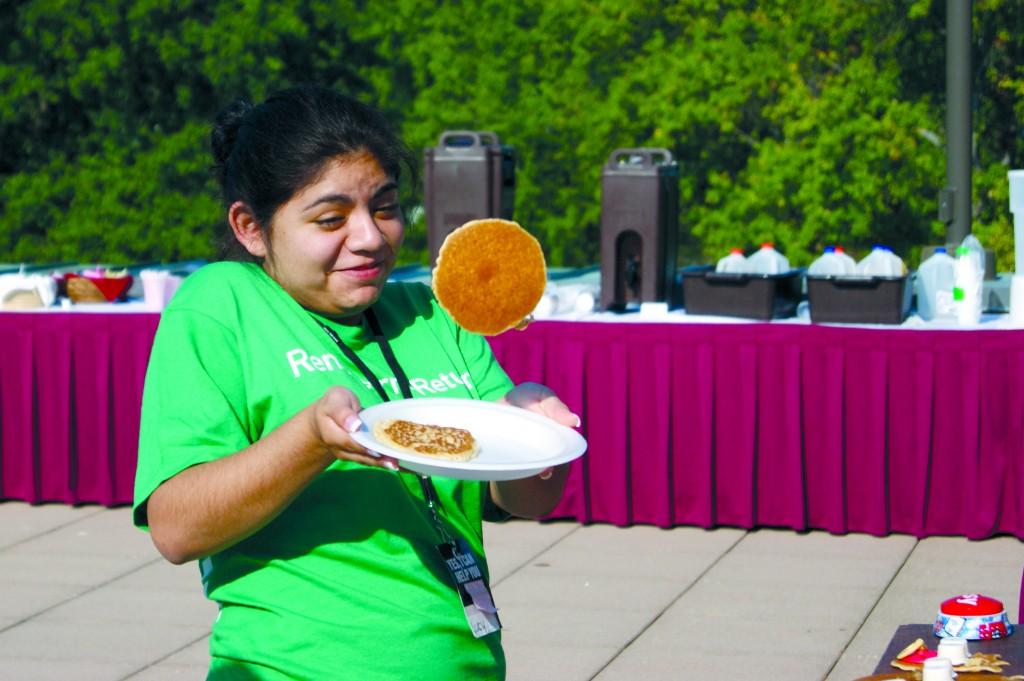 Pancakes were served up circus-style at the third annual Chancellor's Pancake Breakfast on Wednesday, Aug. 29.
In the early morning hours, faculty, staff and students lined up on the breezeway for a chance to catch, snag and dive for pancakes being flipped, tossed and flung by John Young, owner of Chris Cakes, who catered the event.
The pancake breakfast, hosted by Chancellor Sandra Patterson-Randles, was put together to welcome back returning students and give new students an introduction to the campus, as part of the campus-wide Week of Welcome.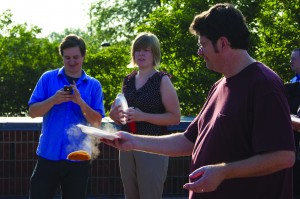 Patterson-Randles even took a turn flipping pancakes to attendees.
"I think it's a great way to start the semester," Patterson-Randles said. "[Young] is great. He's a lot of fun, the way he makes a game out of it."
Young, who purchased the Chris Cakes franchise several years ago, has catered each pancake breakfast.
"I love coming out," Young said. "I went to school here like a hundred years ago, so it's kind of fun to come back to my alma mater. It's outdoors. It's a good crowd, and it's a lot of fun."
Young dished out some light banter to each plate-holder that stepped up, while deciding how to serve up the stack of flying hot cakes.
"I've seen all kinds of styles," Young said. "[Some] hold the plates behind their backs. Some of them hold their plates like a mitt, catch it and bring it down. Some people just hand me their plate, and I lay them on there. It doesn't matter. Whatever they want to do."
Most of the attendees seemed to enjoy the breakfast and the show put on by Young.
Hagan Alderman, chemistry sophomore, also said he enjoyed the pancake toss.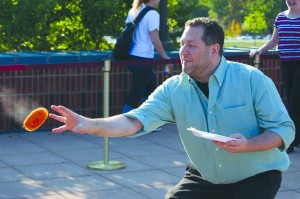 "It's really fun having a guy throw pancakes at you, and trying to catch them," Alderman said. "Sometimes you catch it on the rim, and sometimes it hits the ground. I'm not sure what he does with the extra ones, but, hopefully, he's not feeding the geese. If he is, then they're never going to leave."
Patterson-Randles said she was enthusiastic about the start of the new academic year.
"I think it's going to be another great semester," Patterson-Randles said. "I think our students are really geared up for their programs. They seem really excited."
Alderman said the Week of Welcome plays a major role in bringing students together at IU Southeast.
"The Week of Welcome is a lot of fun," Alderman said. "Getting to go around meeting the organizations. There's a lot of good stuff going on."
By SAM WEBER
Staff
samweber@ius.edu
[photospace]