Women's Wellness on Wheels visits IU Southeast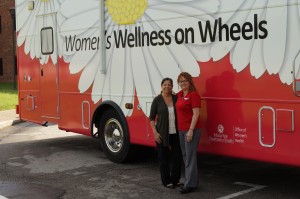 Teri Duell said she was both surprised and alarmed by the health screening results of more than 500 students in the IU system. She found that 70 percent of students had a BMI (Body Mass Index) of over 25, putting them either in the overweight or obese categories. Twenty percent of students had elevated blood pressure, and more than 80 percent had a fundamental misunderstanding of reproductive health.
Duell, operations director at the IU National Center of Excellence in Women's Health, runs a mobile health center called Women's Wellness on Wheels that provides health services to both men and women.
The center was on campus Thursday, April 24 and Tuesday, April 29 performing health screenings as a part of an IU employee wellness program that offers full-time IU faculty and staff a $100 incentive if screened yearly, either by their primary care physician or the campus health center.
Some regional IU campuses like IU Southeast, however, do not have an on-campus health center.
Felicia Jackson, an administrative assistant at the Healthy IU workplace health program, said that is why they have partnered with the Center of Excellence in Women's Health to send the mobile health center to campuses without health centers.
Though contracted for employee health screenings, the center also sees students on a walk-in basis.
"We definitely want it to be a joint opportunity for students and employees. We see a real need based on the statistics," Duell said about providing health services to students on all IU campuses. Those needs, she said, range from basic health information, like nutritional eating, to sexual and reproductive health education.
She said that 49 percent of high school graduates are not sexually active, so the understanding incoming freshman have of what is and is not healthy is sometimes skewed.  Particularly in the 18-20 age range, Duell finds that many of these students are not up to date on the safest practices.
This lack of health education can be harmful to students, she said.
"Many young students are not educated about sexual health and health issues in general. They are encountering lack of sleep and high stress levels for perhaps the first time," which she said could help explain the high blood pressure levels found in her screenings of IU students.
Jenny Gillum, nursing junior, said community health resources are important, especially on college campuses. She said she is not aware of any healthcare services within the community tailored specifically to students, so options like the Women's Wellness on Wheels could help fill the void that exists in available services for students.
"Resources like this are beneficial to students from out of state who may not have a primary care physician, or those without health insurance," she said.
Maria Buchanan, nursing junior, does not currently have a primary care physician or health insurance. She said she is generally pretty healthy, but that when she does need to see a doctor, it can be expensive.
"It would be a really great resource for students," she said. "There are students without insurance, so in that aspect, it would be beneficial."
Duell said she is trying to address the lack of reproductive, contraceptive and general health education and information available to students by providing them with knowledge about healthy eating habits, appropriate sleep schedules and other lifestyle changes that help increase overall health. She said her goal is to provide students with "practical, proactive solutions" to leading a healthier life.
Recently, she applied for a grant to create an app for all IU campuses that would provide the information students need to stay healthy. Using an app available on a cell phone "speaks to students in their own language," she said.
The app would address a lot of basic questions and concerns, but would also provide localized information about resources in each campus's community, like health and counseling centers available to students for little or no cost.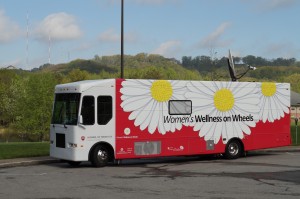 In addition to helping students find out about resources in their community, Duell is also seeking funding to be able to visit regional campuses like IU Southeast more often. Currently, the mobile health clinic visits these campuses once each spring and fall semester.
"We are looking for funding to reach out to more universities," she said. "Our goal is to provide students with the resources necessary to lead a healthy life."