Fighting financial illiteracy
IUS staff and faculty members offer budget related insight and money management tips
Maybe the triple, venti, half sweet, non-fat, caramel macchiato is not a necessity.
Budgeting, balancing, saving and paying are cringe-worthy words for college students. College students typically are at the age where worrying about what their friends are up to that night is more important than if they over drafted their bank account. A few IU Southeast faculty members explain the mistakes college students make with personal finances and tips on how to decrease debt and stress.
Terry Burger, adjunct professor of social sciences, said money management is not something commonly taught in high school, which leaves parents or caregivers the responsibility to teach students how to manage money.
Burger said he read an article listing only 17 states which offer financial classes in high school. Indiana and Kentucky were not on the list.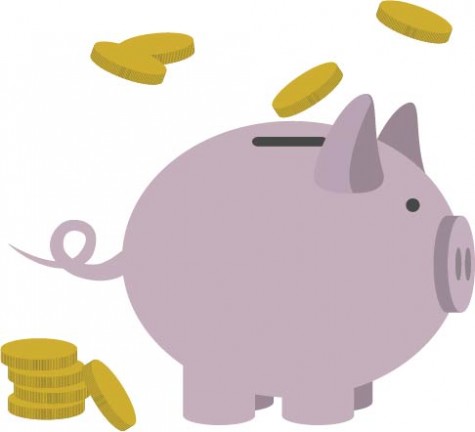 Burger said he thinks all high schools should offer financial management classes.
Valérie Scott, senior lecturer in psychology and co-director of international programs, said she thinks parents or caregivers should teach the student.
Scott said students need to be taught how to create and use their own budget rather than it being an abstract thing.
"If you make 500 to 1000 dollars a month and you pay for clothes, eating out, fun with friends and your cellphone and you think this is all money management entails you are going to have a rude awakening," Scott said.
Ashley McKay, director of student accounting services, said a majority of students visit the Bursar's office because they need to pay or ask about a bill.
"Some people understand money management. Others don't," she said. "We have students that come in late in the semester and don't even know how to pay the bill."
Scott, Burger and McKay all said not budgeting is the biggest mistakes students make when managing their personal finances.
"The assumption is that if students work, they know how to manage money. However, some of our students work and still live at home," Scott said. "So actually, they manage money but often the money is for spending."
Burger said the only way to truly see where the expenses are going is to write down what you spent each month. By doing this, one can see how little splurges, like a coffee, add up quickly.
"Money is important, but what is most important is managing the money you have," he said.
McKay said money can add stress onto a student, and the Bursar's Office tries to eliminate as many of these stressors as possible.
According to Burger, research shows if a person works over 20 hours a week while going to school it adds to the stress and can affect a person's mental or physical state.
Scott said she thinks the most difficult thing for college students is understanding the difference between wants and needs.
"I think to some extent people are trying to extract their happiness more from their wants in comparison to others," Scott said.
Burger said someone might want an iPhone, but they don't need one. Instead of not buying the phone they will try to look for reasons to confirm why it would be a wise purchase.
"But if you can't afford the 600 to 700 dollars it takes to get the iPhone it probably is not a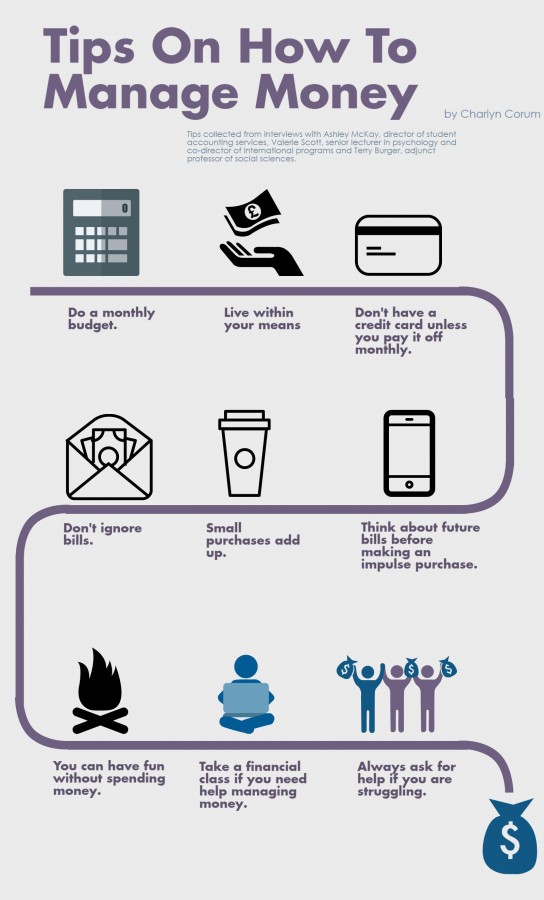 wise decision," he said.
Scott said she tells her freshman students who claim they can't afford to study abroad that, if they just saved five dollars per week, they would have at least half the trip's cost by their junior year.
"They say they can't afford to, but then buy a Frappuccino," Scott said.
Scott, McKay and Burger agree there are ways to minimize financial stressors.
McKay said she had a credit card throughout college and she always paid it off at the end of the month.
"I think it is OK to have a credit card if you're going to pay it off, but if you're going to accumulate fees it probably isn't a good idea," she said.
Scott and Burger view credit cards differently than McKay. They said they do not think credit cards are ideal for college students.
"Credit cards entice you to spend money even if you don't yet have that money," Scott said.
Burger said going into more debt will not solve a person's financial stress.
"Ignoring the problem is not the answer," he said.
The biggest tip Scott and Burger had for students was to write down where their money is going.
"I think you can alleviate some stress by budgeting, so you know what is coming and can make adjustments accordingly," Scott said.
McKay said people should learn what their budget is and live a life that compliments this.
McKay suggested students make use of the tuition calculator IU Southeast offers online. This is a tool students can use to help them budget for college.
Along with this, the Bursar's Office offers payment plans so students who are not getting financial help can space out the cost of tuition.
Scott said students need to research all the options for tuition assistance such as scholarships or companies who will help pay for college.
UPS, Staples, Best buy, Apple, Ford and Gap are just some of the companies who offer tuition reimbursement.
Burger said students should live within their means.
"Don't spend more than what you make," Burger said.
Scott said a huge part of life is having fun, but students can have fun without spending money.
She said you could go out and have a good time without drinking or you could pay nine dollars a month for Netflix and not go to the movies at all."Living tightly goes well with being a student," Scott said. "You can have fun without spending money." ■
About the Contributor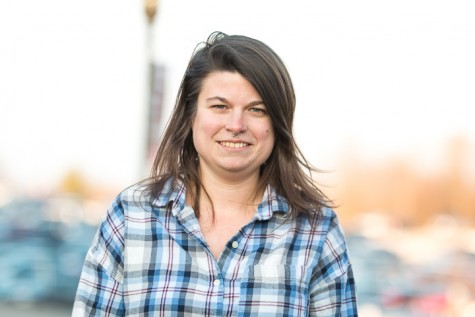 Charlyn Corum, Staff Reporter (Spring 2016, Spring 2015)
Hello All! My name is Charlyn, which is a modern form of Charles. I was named after my grumpy Grandfather who lived until the age of 92. At 10 years old...