Can I take your picture for the paper?
Faces of IUS – Signing Off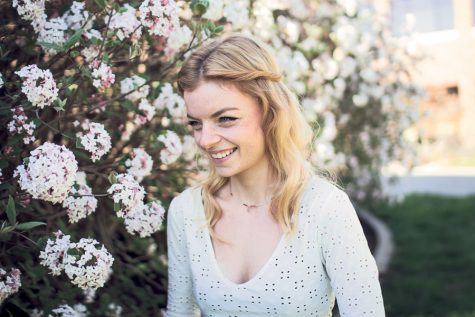 I started Faces in the Fall of 2014 to replace an outdated recurring piece in the Horizon. Inspired by Brandon Stanton's "Humans of New York," I wanted something quick and easy to read that showed the more human side of our campus – something that would highlight the everyday individuals we walk pass multiple times throughout our time here and don't think twice about.
Bill Nye once said, "Everyone you ever meet will know something that you don't." I keep this in mind when I approach people. I understand that a stranger approaching you with a camera saying "Can I take your picture for the paper?" can be a little intimidating, so I try to put the camera down. Have a five-minute conversation with them. Ask how their day is going, what they're up to, or what they've been thinking about lately. Make them forget that they're essentially in an interview, and just try to connect with people for what is just a small blip in both of our lives. I've been floored by some of the insight, wisdom, and perspectives I've encountered when I've been out creating this biweekly series.
This edition marks the end of my contributions to Faces of IUS as I move on from the paper and eventually towards graduation. Faces of IUS has pushed me outside of my comfort zone – forcing me to strike up conversation with strangers, struggling to not stumble over my words and pull conversation topics out of the air, dealing with rejection when people have scowled at the idea of me sticking a camera in their face.
I still feel like I suck at talking to people, but after doing Faces of IUS, I feel like I suck at it a little less. I've had some five minute conversations turn into hour long conversations, and have even made some new friends along the way. More than anything, I've tried to absorb the idea that there is always something to learn from everyone. I hope all of my subjects and readers have done the same.