Horizon guide to Thunder over Louisville, Pegasus Pins, KDF
5 Tips for making the most of Thunder Over Louisville on April 13, and kicking off the Kentucky Derby Festival
1. Claim Your Spot Early
The air show begins at 3 p.m., so you should plan to get there way before that. The committed people get there early in the morning to claim the best spot.
If you want to claim a large amount of grassy area right on the riverfront in Indiana or Kentucky, you should arrive in the early afternoon.
While you're waiting on everyone else to show up or on the air show to start, play some card games or throw a football.
Pro Tip: Don't rely on your phone working all day while you're there. With so many people trying to access the Internet on their phones, the signal and service is not usually the best.
2. Watch Out for Road Closures
Before you leave your house that day, check for road closures. It's common that nearly every road near the river in Jeffersonville and Louisville are closed by the afternoon.
Local news websites will have road closures listed, as well as thunderoverlouisville.org.
As you get closer to the river, prices for parking steadily increase. You will have to pay to park unless you know somebody, so make sure you have cash for parking.
Pro Tip: Park as far away from the event as you can walk – it will make leaving the event after the fireworks much easier.
3. Show up with an Appetite
Oh, the food of Thunder. Funnel cakes, cotton candy and smoked meat are available at nearly every food truck. As you approach the river, the aroma of fried everything fills the air and that long line at the food vendor suddenly looks worth it.
Be prepared to pay with cash, as most vendors don't accept a card. However, if you don't want to pay steep prices for fried everything, you can take your own snacks.
You are allowed to bring outside food to the riverfront, but outside alcoholic beverages are not allowed.
Pro Tip: Instead of lugging a heavy cooler around, wear a backpack filled with snacks and a couple drinks.
4. Dress for Success
Dressing for success at Thunder seems like an impossible task. If you dress for warm weather, you'll inevitably be cold when the sun sets. But, if you dress for cool weather, you'll inevitably be hot in the afternoon.
You should check the weather forecast the morning of Thunder, but still be prepared to be colder than you imagined when the sun sets. But, also be prepared to be hot if the sun is out in the afternoon and early evening.
Wear comfortable walking shoes. You will have to walk a good distance to get to the riverfront and then you'll spend most of your time there walking around before the fireworks start.
And don't forget – after the fireworks end, you'll have to walk even more to get back to your car.
Pro Tip: Bring sunglasses and sunscreen. It's almost guaranteed that you'll need both of those items.
5. Enjoy the Show
First of all, plan to watch the air show at 3 p.m. However, if you are taking children, take ear plugs for them, as the airplanes get very close and are very loud.
The fireworks start at 9:30 p.m., so make sure you're sitting down somewhere where you can see the river before that.
Put your phone away and just watch the show. Your phone can't even come close to capturing the beauty of the fireworks, so don't waste your time trying.
Bring a radio and tune into 106.9 PLAY during the show. This station broadcasts the soundtrack that matches the beats of the fireworks, truly enhancing the entire show.
When you think the fireworks show has ended, just wait. There is always a fake finale that makes viewers think the show is over, but wait around for a couple more minutes to see the real finale.
Pro Tip: Take two blankets – one for sitting on and one for covering up with during the fireworks show.
The 28 minutes of colorful illumination on the river and in the sky of Kentuckiana brings everyone together to kick off one of Louisville's most popular events. Enjoy the show and put your phones down.
What is the Pegasus Pin and what will it give me access to this Derby season?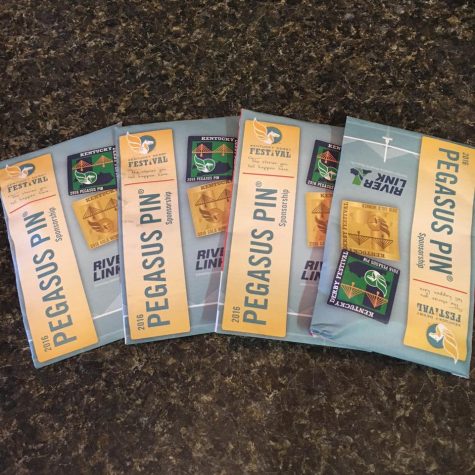 Pegasus pins are an essential part of the Kentucky Derby Festival, allowing pin holders to get free admission into events leading up to the final horse race. As well as helping to fund some of the Derby Festival, Pegasus Pins also help spark the festive Derby season and are worn by purchasers to show support.
What does the Pegasus Pin represent? According to the frequently asked questions page on the Kentucky Derby Festival's (KDF) website, pegasus has been regarded as the horse of Muses (goddesses of the arts) and symbol of poetry. The symbol is said to have magical powers, heightening the natural powers of mortals and creating an almost supernatural spirit. The spirit of those attending events during Derby season in Louisville, Kentucky, could easily be compared to that of a pegasus.
Where to purchase
Pegasus Pins are sold at over 1,000 retail outlets around Kentuckiana, so if you're shopping throughout the region between March and May, they won't be hard to find.
Some retailers selling Pegasus Pins include Kroger, Meijer, Speedway, Circle K, CVS, Walgreens, Rite Aid, Central Bank, Fifth Third Bank, Belle of Louisville, Louisville Visitors Center, Derby Dinner Playhouse, and many more. You're also able to purchase Pegasus Pins online at kdg.org prior to the Kentucky Derby Festival.
Cost
Standard plastic Pegasus Pins are $6 in advance, although other individual pins may range in price. Pegasus Pins are $7 if you buy them at any event during the festival.  Individual metal Pegasus Pins start at $8.
Deals are offered for those wanting to buy multiples. According to the KDF website, The Festival Fun Pack consists of four individual pins and one "Hero" metal pin in envelopes and sells for $25 — which costs less than if you buy five pins individually.
Proceeds from the sales of Pegasus Pins allow the KDF to provide free events to the public such as the Republic Bank Pegasus Parade and Thunder Over Louisville. The sales contribute to the event's budget, allowing over 60 percent of the events to be free to the public.
Pegasus Pin Admission Events
April 13
Thunder Over Louisville

Ford's Thunder on the Ground
April 25– May 3
Kroger's Fest-a-Ville

Chow Wagon
April 25– April 27
BB&T Bank Great BalloonFest
April 25
BB&T Great BalloonFest: Great Balloon Glimmer
April 25
Health Fair Presented by WellCare Health Plans
April 26
BB&T Great BalloonFest: Great Balloon Glow

Ohio Valley Wrestling Run for the Ropes

Waterfront Jam Friday Concert
April 27
BB&T Great BalloonFest: Great Balloon Race

Ken-Ducky Derby

Waterfront Jam Saturday Concert

Fitness Jam
April 28
Waterfront Jam Celebration Sunday Concert

Louisville Youth Orchestra Concert

Passport GospelFest
April 29
HappyTail Hour

Great Bed Races
April 30
Health Fair Presented by WellCare Health Plans

Pegasus Parade Preview Party

Waterfront Jam Tuesday Concert
May 1
Battle of the Bounce

Waterfront Jam Wednesday Concert
May 2
Waterfront Jam Thursday Concert
May 3
Waterfront Jam Derby Eve Jam Concert