Field Biology program holds event celebrating its 20th year of overseas study
The IUS Field Biology program is celebrating 20 years of travel to more than 20 countries.
On Saturday, March 5, the program celebrated its 20th year of overseas study with an event called 20 Countries in 20 Years from 7 to 10 p.m. in University Center North, room 127. Students, alumni, faculty and staff attended.
David Taylor, professor of biology, head of the biology department and the main Field Biology instructor, led the event, which included a silent auction, a photo identification quiz and internationally-inspired food and drinks.
Taylor said the Field Biology program's first trip out of the United States was in 1996, when the participants traveled to Belize and Guatemala. He said the program has traveled to over 20 countries on four continents over the past 20 years since then.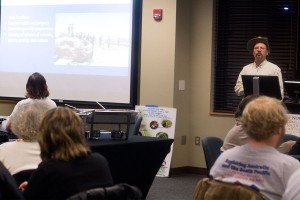 "It's actually fairly rare for field trips to go to different parts of world," Taylor said.
Taylor said the students make these trips possible. However, he said the students still have to study before and during the trip.
"The students are required to learn hundreds of animals, plants, fungi, rocks in some cases and things like that they have to memorize," Taylor said.
Taylor said the current Field Biology students and instructors will travel to Australia, New Caledonia and Vanuatu at the end of the spring 2016 semester.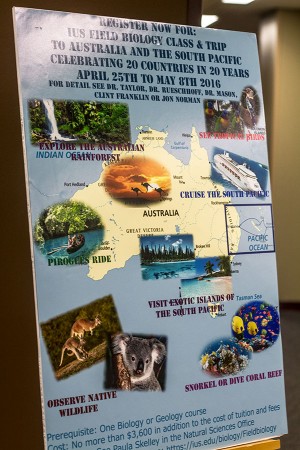 Taylor said students going on the 2016 Field Biology trip, as well as alumni and trip leaders from previous trips, attended the 20 Countries in 20 Years event. Taylor said there were students and alumni present from every previous trip, except for the 2010 Egypt trip and the 2000 and 2003 Tahiti trips.
Bryson Burage, geosciences sophomore, said he is going on the 2016 Field Biology trip to Australia, New Caledonia and Vanuatu. He said he felt like the trip would be a good opportunity to not only visit a new place, but also the Ring of Fire, the area of the basin of the Pacific Ocean that is susceptible to earthquake and volcanic activity.
"The main trip is mainly biology, but if there is any geology that we come across I am definitely going to try and look into it," Burage said.
Burage said the 2016 Field Biology trip will be his third time participating in a field study program. He said his previous field study trips included a Field Geology trip to Utah and Colorado in 2014 and a Field Geology trip to Alaska in 2015.
During the event, Taylor quizzed the audience members on their knowledge of international locations through photos of previous Field Biology trips. The audience was split into teams, and each winner received a free Field Biology T-shirt.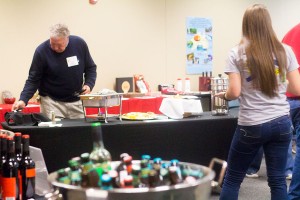 There was also a silent auction, which consisted of a mix of internationally- and locally- inspired merchandise and artifacts, including lava rocks from Hawaii and a handmade Mexican sun wall hanging, according to sign-up sheets for the items. Cheryl Neal, an alumna who received a Bachelor of Science in psychology in 1987 and a Master of Science in education in 1990, won the Mexican sun wall hanging.
Taylor said the silent auction and other donations totaled approximately $2,000. He said some of the money will support the Field Biology students going to Australia, New Caledonia and Vanuatu, and the rest of the money will support future trips through the Indiana University Foundation. He also said people can still donate by visiting the Field Biology webpage.
Food and drink – including chicken, fruit and bread – were also provided during the event. The dishes, provided by Conference and Catering at IU Southeast, were an assortment of items inspired by regions Field Biology program participants have visited in the past, including Asia, Africa, the Caribbean, North America and South America. Sam's Food & Spirits provided beers from around the world, as well as wine from Australia.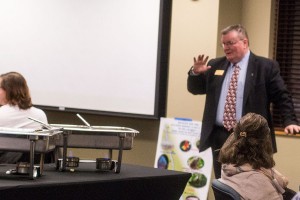 Chancellor Ray Wallace attended the event, and he said he believes international study is an important aspect for any student.
"Here's the deal," Wallace said. "International travel is the most important thing people can do. No matter where you're from and if you can only afford to go for a week or two you should do it because it changes your whole outlook on life. The opportunity to study in a place is fabulous. I get that, I understand that. The opportunity at the end of the day to sit around and talk to locals is pretty fabulous."
Tickets for the event were $24 for students and alumni who graduated between 2011 and 2016, and $29 for other attendees.
Below is a story map that shows where the Field Biology participants have traveled since they began to go abroad. The photo displayed for the 1997 trip and the 2016 trip are Creative Commons photos. The rest of the photos were provided by Taylor.